MRWA March 2022 Newsletter
Updated at 2022-10-25 06:30:54 Posted in (Primary)MRWA - INDUSTRY NEWSLETTERS,
Donna

Welcome to the January - March edition of our industry newsletter. The year is shaping up to be another eventful and exciting one.
To begin we'd like to acknowledge the increase in permit turn-around timeframes. To help meet industry demands, our staff are currently working overtime and we're making every effort to engage and train additional team members. Thank you for your continued patience and understanding. We urge you to continue submitting permit applications as early as possible, ensuring full and correct information and necessary documentation is provided.
In this quarterly edition, you can find information about:
For further information on anything included in this newsletter, please contact the Heavy Vehicle Helpdesk via email at hvs@mainroads.wa.gov.au.
In February, as part of the response to the disruption to the East-West Rail Link in South Australia due to flooding, we worked with our Eastern States counterparts and Industry to manage the closure and subsequent supply chain challenges.
To ensure the continued supply of food and other essential goods to Western Australia, we developed two Temporary Special Assistance – Flood Relief Permits. In total there were 510 Flood Relief Permits issued. HVS provided 24/7 coverage and escorted loads from the Northam Road Train Assembly Area. Some of the statistics relating specifically to the flood relief permits are provided below.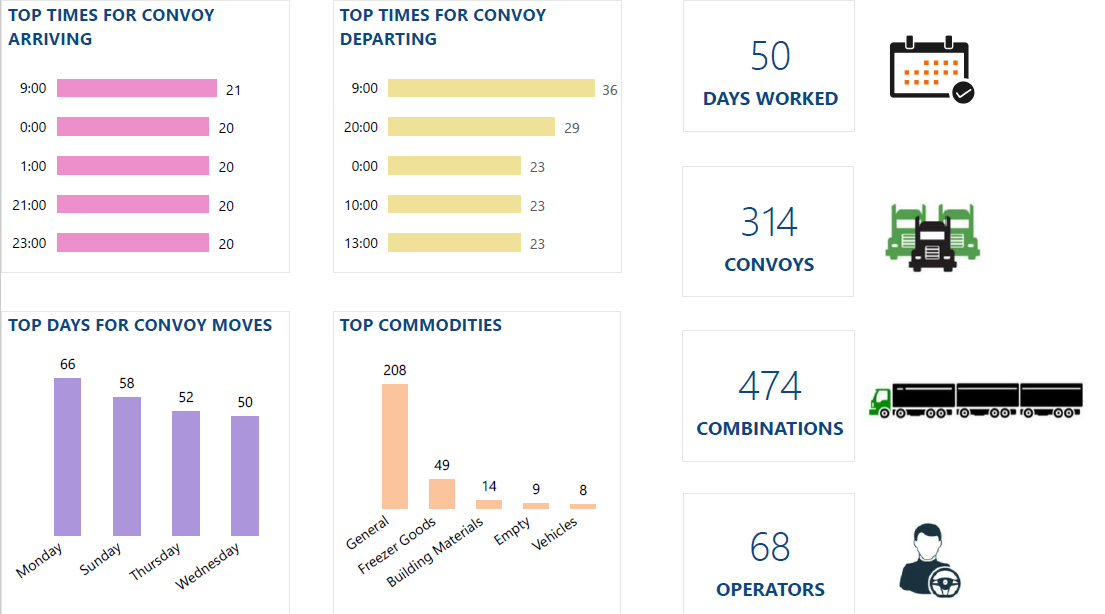 HVS recently introduced a number of new features and enhancements to its self-service customer portal, MOVES.  These aim to improve efficiency and streamline HVS services by allowing customers to manage their applications and payments in the one place.
We've developed a collection of tutorial videos which you can access from the MOVES page and include:
Creating a MOVES account

Filtering permit information

Adding a new vehicle

Making payments
Further information regarding the new features is available on the MOVES page on our website.
Updated Oversize Operating Conditions
As part of amendments that have been made to the Class 1 Oversize Period Permit Operating Conditions and the Single Trip OSOM Vehicle Standard Operating Conditions, Appendix 5 within the Single Trip OSOM Vehicle Standard Operating Conditions has been amended to include updated Escort and Pilot Vehicle requirements, as outlined below:
The requirement for a Traffic Escort has been replaced with a third pilot vehicle when accompanying an OSOM vehicle over 40 metres in length, up to 50 metres in length, outside the metropolitan area and within the metropolitan area between 9:30 pm and 5:00 am, excluding Freeways.
This change has come about as part of our ongoing commitment to consider ways to assist in reducing the demand for TEW bookings, without negatively impacting road safety. Previously, an OSOM vehicle exceeding 40 metres in length has required one (1) Escort Vehicle and two (2) Pilot Vehicles.
By replacing the Escort Vehicle requirement with a Pilot Vehicle, it ensures the movement of the OSOM vehicle can continue to be managed safely, whilst making additional TEW resources available to be redirected to other booking requests for higher risk OSOM movements.
Please see HVS Update 17-2022 for a full list of amendments and information.
The revised operating conditions are now available on the Oversize Overmass (OSOM) page on our website.
Over the next 6 months, we'll be transitioning our PDF application forms to web forms. Using web forms will provide you with the ability to complete and submit application forms and attach supporting documents (where required) in one step.
The first rollout of forms will be available in May and include: 
Application to List or Update Vehicle or Trailer Information Form

Restricted Access Vehicle Operator Registration Form

Traffic Escort Services Booking Request or Cancellation or Amendment Application Form
As we transition to web forms, a collection of 'how-to' videos will also be released on the Main Roads website to assist you.  
Changes to the WAHVAS Business Rules, Module Standards and Operator Guide: How to become and stay accredited came into effect on 31 March 2022 for new Accredited Operators, with existing Accredited Operators having until 31 March 2023 to transition.
Since early March,  we've been hosting online information sessions, that provide an overview of the changes. The one hour sessions will continue until the end of May. Places are limited for each session.  If you would like to register please click on the button below:
Register Here
The updated documents are available on the Accreditation and Auditing page on our website. 
WAHVA Certified Auditor Online Information Sessions
We held three online information sessions for the WAHVA Auditor Group in January. Attendees had the opportunity to discuss any queries they had about the planned changes to the Module Standards and Templates, and Certification and Training Process directly with the HVS Accreditation Team.
Each of the sessions covered topics including:
Main Roads WAHVA Auditor Certification Process: online training, important dates and pre-qualification requirements

Amendments to the audit report, operator guide, audit matrix, FAQ's, guidelines for audit providers and the module standards

An overview of the planned engagement with the transport industry about the changes to the module standards.

 
Due to restrictions relating to public health and social measures, our first HVS Industry Workshop and Information Session for the year is planned for the 28 April in the Metropolitan Region. 
As usual spots filled quickly for this workshop, however, we would like to remind everyone that you can still register to attend our other regional sessions.  These provide a good opportunity for you to come and discuss and raise any heavy vehicle  issues with staff from key areas within HVS and the Department of Transport, with a focus on 'What we can do together to make this work better?'
If you haven't already, please register below.
Register Here
In response to requests from industry to reduce the number of false or phantom bookings being made in the Traffic Escort Services (TES) schedule, HVS worked with representatives from Industry to refine the Traffic Escort Booking process. 
As a result, from 31 March 2022, all TES booking applications and amendments to existing booking dates need to include evidence of the: 
TES Head Agreement holder's client details (including company / business name, contact person and contact number)

Transport Operator

equipment to be transported and

date(s) of movement(s).
This change to process removed 165 'phantom' bookings from the TES schedule.
Scheduling

 

Solution (TESS) Module
The 'Improving HVS Digital Services Project', which includes replacing and improving our internal and external facing systems, will commence in the second half of 2022 and will transform the way that we do business with you.  We expect our digital transformation will take us up to two years to complete.
In recognition of the consistent increase in demand for Traffic Escort Services, and as part of our Improving HVS Digital Services Project, we're bringing forward the development and deployment of the Traffic Escort Scheduling Solution (TESS) module – which will have both internal and external interfaces.
As part of the TESS module development, we identified a group of TES customers, who have agreed to assist us in mapping out the functionality and features our TES customers want to see in the  TESS customer interface. Once developed, they will also help us test the functionality and features prior to deployment.
Traffic Escort Recruitment 
We recently wrote an article in the WA Transport Magazine that provided a glimpse into the role of a Main Roads Traffic Escort Warden (TEW). TEWs play a critical role in the movement of high-risk, Over Size Over Mass (OSOM) vehicles throughout Western Australia. The use of a Warden is required where the dimensions of an OSOM vehicle and its load exceed 5.5 metres in width and/or 40 metres in length.
If you, or someone you know, is interested in becoming a Traffic Escort Warden, contact Integrity Staffing, Hays Recruitment or Indigenous Managed Services and make an appointment to discuss the role and your suitability further. As vacancies arise, the employment agency will forward your details to Main Roads where your application will be assessed, and if considered to be suitable, you will be interviewed.
The Customer Persona Review continued over the last quarter. Thank you again to those who provided feedback and volunteered to be part of the small group or one-on-one interviews.
Over 30 per cent of respondents to the 'Interacting with Main Roads Survey' identified as Heavy Vehicle Customers. Initial results indicated that these customers preferred to access travel impacts, permits and accreditation information via the website and email.
Accessing HVS Travel Impacts:
Accessing Permits, Accreditation and other HVS Information:
The review also highlighted that a lot of our customers are unaware that they can subscribe to receive the latest HVS news and updates. If you know someone who might benefit from receiving our subscriptions, please feel free to forward this newsletter onto them and encourage them to follow the 'how to subscribe' instructions at the bottom of this newsletter.
In November 2021 Main Roads announced a review of the Heavy Vehicle Pilot Licence scheme.  To assist Heavy Vehicle Services (HVS) undertake the review, a Pilot Licence Reference Group was established to consider significant aspects and inform decisions.  See HVS Update 23A-2021 for a list of stakeholders who have accepted the invitation to join the Pilot Licence Reference Group. The review is being led by an independent facilitator and meetings began in March.  Pilot training has been identified as one of the key topics of discussion.  Information about the progress of the group will be published on the My Say Transport website.
Great Northern Highway Convoys
At the beginning of April, loads in excess of 4.5 metres wide, were restricted from travelling on Great Northern Highway between Mount Magnet and Paynes Find between, due to inclement weather. The restrictions​ led to a backlog of over 20 Oversize Overmass (OSOM) loads that were unable to travel this section of the highway.
Heavy Vehicle Services worked with our teams from the Mid West Gascoyne Region to collaborate and put in place a plan to clear the backlog.
On the morning of 6 April, OSOM loads exceeding 5.5 metres wide were able to depart under traffic escort, in staged convoys of up to six loads. 
The first departed from Mount Magnet, travelling south of the highway to the exclusion of traffic travelling in the opposite direction.  

The second convoy departed once the OSOM loads travelling south passed Paynes Find, and the OSOM loads travelling north from Paynes Find were able to depart in convoys to the exclusion of traffic travelling in the opposite direction.  

Several convoys in each direction were approved for travel, with up to six loads in each convoy to clear the backlog of OSOM loads.
Images provided courtesy of Gary Dunlop